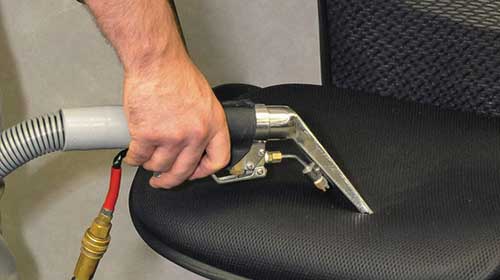 Chair Cleaning
It is very important to have a clean place, a place where you sit all day long. We provide with chair cleaning services where we use hot water and a steam cleaner to clean chairs.

The steam cleaner is runs over the fabric in a grid until all areas of chair are covered. We wet down the microfiber cloth and wet the entire area while giving it a quick scrub. This is done to remove all the stains and dirt. Then it is sprayed generously on the heavily stained or soiled areas with hydrogen peroxide.
We are the best chair cleaning service in karachi.
Q: What kind of chairs does your cleaning service cover?
A: Our cleaning services cover all types of chairs including office chairs, dining chairs, armchairs, and accent chairs.
Q: Do you provide cleaning services for chairs at my home or office?
A: Yes, we provide cleaning services for both residential and commercial properties.
Q: How do you clean the chairs?
A: We use a combination of methods including vacuuming, steam cleaning, and spot cleaning to ensure that your chairs are thoroughly cleaned.
Q: What cleaning products do you use?
A: We use environmentally friendly cleaning products that are safe for both your chairs and the environment.
Q: How long does it take for the chairs to dry after cleaning?
A: It typically takes about 2-4 hours for the chairs to dry completely, depending on the weather and humidity levels.
Q: Do you offer any guarantees for your cleaning services?
A: Yes, we offer a 100% satisfaction guarantee for our cleaning services. If you are not completely satisfied with the results, we will re-clean the chairs for free.
Q: How can I schedule an appointment for your cleaning services?
A: You can schedule an appointment for our cleaning services by calling us at [insert phone number], or by filling out our online appointment form on our website.
Q: Do you offer any discounts or special deals?
A: Yes, we offer discounts for repeat customers and special deals for multiple chair cleaning services. Please contact us for more information.