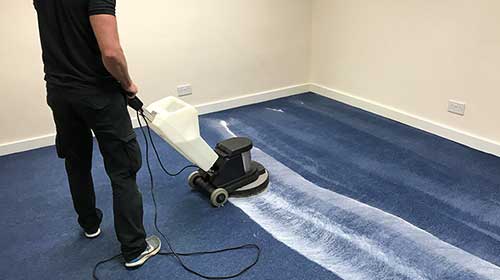 Carpet Cleaning
Our cleaning services also include carpet cleaning. We are equipped with modern methods of carpet shampooing to remove dirt, stains, grit, sand and allergens. Our dry stream cleaning system removes the deep down dirt that damages the carpet fibers. Our proven methods o successful carpet cleaning system removes and eliminates bacteria up to 93% which flourish in carpet. The products that we use for carpet cleaning serve multi-purpose, such products are used to create oxygenated carpet cleaning system that leaves no sticky residue and is safe for children as well as for pets. We also have a pile lifting technology that scrubs dirt and stains up and out the carpet very effectively. You may be used to day-to-day carpet vacuuming but that does not ensure a good health of your carpet. Professionally deep cleaning your carpet every 06 months is the right choice. With our efficient carpet cleaning system, your carpet is available to be used in about few hours. These are the steps involved in the carpet cleaning process.
"Firstly we start with pre-spraying the carpet which helps us removing the hard accumulated dirt or sand this done to give carpets a brand new look."
"After that we perform scrubbing and shampooing of the carpet with our powerful machines."
"It is rinsed with water and water is extracted. Plain water further wipes off stains and the deep down dirt."
"The carpet is then dried out with the use of powerful vacuums to take off all the moisture."

This ensures an efficient, professional carpet cleaning service provided by courteous technicians who are more than happy to offer clients whatever carpet cleaning tips they can as they get rid of your stains with relative ease. Since we are using a low moisture system, we only need one hour to dry, that means no more long dry times and wet carpet pads. However, it can be altered as per customers' preference.

We are the best carpet cleaning in karachi.